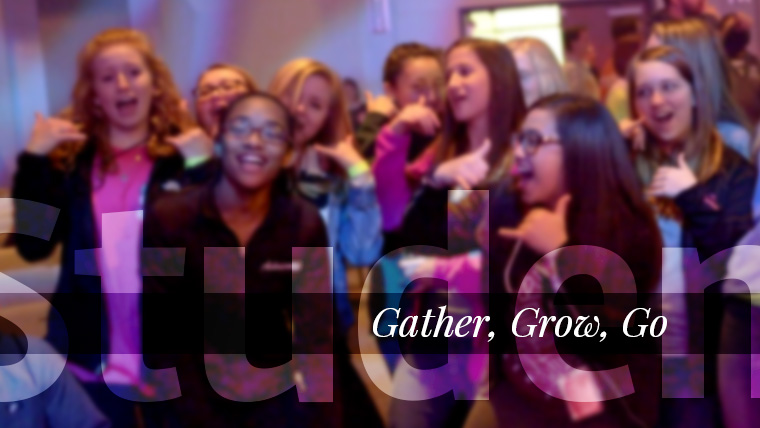 Rush Creek Students is designed to help teenagers grow in their understanding of God's word and his plan for their life. 7th-12th grade students can look forward to a relevant and meaningful experience with other teens from the area as they gather every Wednesday Evening. Students can expect a powerful time of worship, a biblical message, and interactive LifeGroup time with their peers and an adult leader who will help them connect with each other, God and the Bible. There are also unique ways to use your talents to go and serve the church, community, and world.
Rush Creek Students are all about helping 7th-12th graders GATHER to experience God [in worship on Wednesdays], GROW in their faith in God [in Wednesday Student LifeGroups], and GO all over the world impacting people with the love of God!
If you have questions or for more information, email and indicate which campus you attend in the Subject Line.
Times and Locations
Wednesdays // Student Service and LifeGroups: 6:30pm-8:30pm at each campus
Sundays // Servant's Heart & Main Service Worship at each campus
FIGHT CLUBS (guys) & BECOME GROUPS (girls) // See your Wednesday night Small Group Leader for more details and how to commit
For weekly events and reminders:
Green Oaks: Text "@rcstudents" to 81010
Mira Lagos: Text "@mlstudents" to 81010
Mansfield West : Text "@mwstudents" to 81010
Handley: Text "@hdstudents" to 81010
Student Weekend 2018 Was One For The Books!
We believe that God uses moments like these to impact and radically change the lives of teenagers. Student Weekend serves as a catalyst for teens to gather together to hear and respond to God's call on their lives.
Because of this truth, we know that this event is about so much more than just Rush Creek Students but about all students who do and will proclaim Christ as King. So we invite you to become UNITED with us for this life-changing weekend.
This is a sweet opportunity for students 9-12th grade across all of our campuses to spend some time in the great outdoors, get connected with other students and leaders, and be lead through some amazing sessions by our Rush Creek Student Interns.
Cost is only $20 for this incredible experience as long as you register before 9.21.17.
Details
DATE: September 29-30

LOCATION: Mt. Lebanon | 1701 Texas Plume Rd., Cedar Hill, TX 75104

ARRIVE: Friday 6pm - Meet us out at Mt. Lebanon

DEPART: Saturday 4pm - Pick up at Mt. Lebanon

INCLUDES: Late night snack Friday night, breakfast and lunch on Saturday.

WHAT TO BRING: Bible, sleeping bag, pillow, tent if you have one (or coordinate with a friend who has one), pen/paper, deodorant, play clothes, tennis shoes, flash light, towel, soap, toothbrush/paste, games, favorite sports gear, favorite snack to share.

TIME AWAY: If you will miss any part of the weekend, please go to rush.is/timeaway and complete the form.

CONTACT INFO: Karen at
Register at rush.is/hsretreat